REGISTER
Course Registration Form for CIIAN's ADR Certificate Program (Modules I to III)
Registration closes two weeks prior to each course. Early registration will help ensure a place.
Participants must register by email.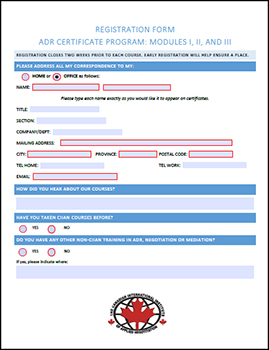 * Download PDF Registration Form Here*

When you have completed the form and reviewed your information, click submit. A dialog box will open requesting permission to email your form to us at ciian@ciian.org - follow the instructions.
If you have any difficulty sending us this form, save it to your desktop and email it to us at ciian@ciian.org with the word "Registration" in the subject.
Upon receipt of your registration an invoice will follow for payment of course fees.